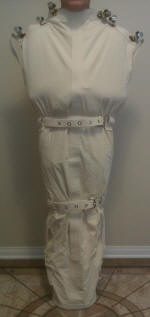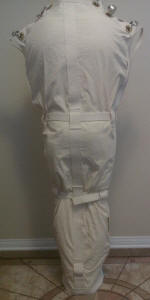 CANNON'S CANVAS COCOON - A UNIQUE, FULL VIEW ESCAPE
Created by Mark & Sheila Cannon © 2006
This is a GREAT and extremely UNIQUE Escape Restraint. Made of very tough canvas material, the Cocoon does just what the name implies: It encases the performer's entire body, sans head. Six large grommets at the shoulder/neck area allow the Cocoon to be locked** onto the performer. Additionally, two attached/canvas belts tighten and buckle around the waist and leg area. Lastly (if you wish) large belt loops surrounding the ankles allow for the securing of another belt, rope, chains, etc. Also, there are four attached "handles" (two on each side) that allow for assistants to hold the performer, or, alternatively, these can be used as anchor points to secure to a hospital gurney, etc.
Note: As an example, you can have your hands cuffed in front of your body, then placed into the Cocoon. The Cocoon hides the methodology of your handcuff escape. Next, the audience watches as you "struggle" within the tight-fitting Cocoon. Finally, they see a hand emerge at a shoulder area and "pick" the locks, and you escape. FULL VIEW ESCAPE.
** Locks not included. Suggest the use of your favorite gaffed padlocks.
Suitable for someone between approximately 5'6" and 5'11", normal weight. Only two of these were ever made, one out of cordura and this one, out of canvas.
WARNING: DO NOT USE UNDERWATER! This is, after all, CANVAS.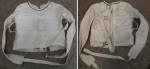 USED MEDIUM POSEY REGULATION STRAIT JACKET
This is the real deal. This restraint features very durable canvas, which will last for years of use, four back straps, a sleeve strap and a crotch strap. All buckles are the spring friction type. Additionally, these jackets have two side loops and a belly loop for additional security. Currently used in mental wards. Because it is genuine, complete inspection is possible. This particular jacket is USED and was on the mannequin when we purchased the upside down Houdini from Wizardz when it closed years ago. The jacket wasn't from that era, so we switched it out. This jacket is in great working condition, but it was dirtied up for the display. So, it's being sold AS-IS at a substantial discount off our regular price, which was $299. Sold for entertainment purposes only.